Crackin' Catnip Pillows

Just picture your Kitty all curled up on our 12inch square Faux Fur Pillow. The inside is stuffed with Fiberfil and a Generous amount of Catnip Blossoms (a very potent part of the Catnip Plant) in addition Kitten Kaboodle has also added Catnip Stalks. When the pillow seems to be losing its potency to you ( a mere human) just crack the stalks and crush the Blossoms and like magic it is renewed! We are told the Pillows last from 6 months to a year! The front of the pillow is a comforting Soft Faux Fur and the back is a cotton-blend Cat-print Fabric.

(our choice of colors) approx. 12" inches square

$6.50
Also available in smaller six inch BLOSSOM pillows! Faux fur pillows in a tote-able size for kitty's pleasure stuffed with several handful's of Catnip Blossoms. This makes a great gift size or it is purfect for a stay at the cattery.
$3.00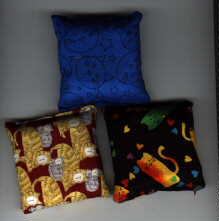 This is a Tuff Toy!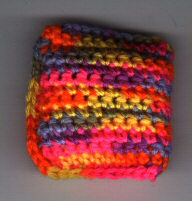 Crocheted Catnip Pillow $2.00
Crocheted Catnip Pillow $2.00
These catnip Pillows are hand-crocheted but very durable! They are approximately three inches square and stuffed firmly with fiberfill with a generous amount of Kitten Kaboodle's Organic Catnip added to each side!
(Our Choice of Colors)