Little Carrots have plenty of Cat Appeal! Colorful Bright Orange Cotton-blend Polka-dot material is topped with a Pert Green Bow and Firmly stuffed with Fiberfil plus Our Wonderful Organic Catnip.
(approx. 4"long) polka-dot or plain orange available
$1.50 each
Imagine a fuzzy furry four inch long carrot that is topped with a head of bright green yarn and is stuffed with Kitten Kaboodles own Organic Catnip and you will be thinking of our very own fur carrots. They are made from faux fur and topped with acrylic yarn and are a delight for any cat or kitten thats old enough to enjoy the pleasures of the magical herb.
Only $1.50 each
Catnip Fur Carrot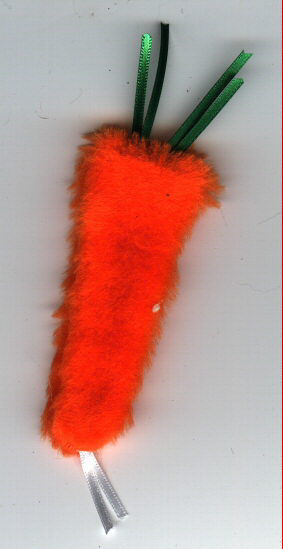 $1.50