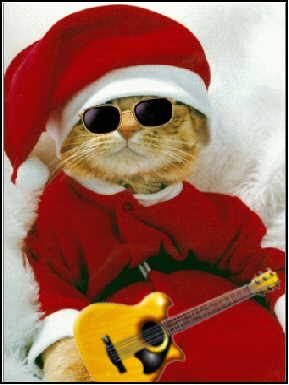 Really Kewl Kitties buy really kewl cat toys at Kitten Kaboodle!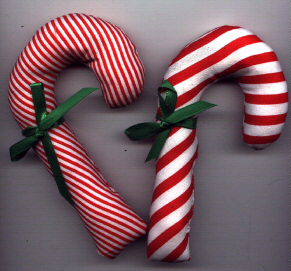 Even cats like Candy Canes-Especially if they come from Kitten Kaboodle and are loaded with LOTS of Kitten Kaboodle's Organic Catnip! Red and white striped tied with a bright green satin bow these "Candy Canes" are just right for Kitty's stocking or to wrap up for under the tree on Christmas morning.
Only $1.50 each!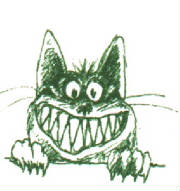 Santa's Cat "Jingles" has been busy collecting these Christmas print Catnip Mice just for you kitty. They are made from colorful Christmas material tipped with a holiday green twine tail (just for the Christmas Mice) and stuffed with polyfil and our top quality organic Catnip! Special plastic bag announcing Santa's Mouse's arrival at no extra cost.
Order early and place in a zip lock bag for Christmas!!
$1.50 ea.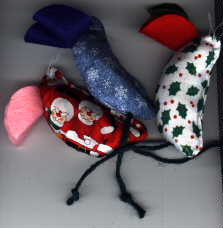 Santa's Mice $1.50
Here is an extra stocking stuffer for your Cat or kitten-Don't forget the 3 inch Christmas Catnip Pillows! Only three inches square but packed with delight for both you and the kitty. Each pillow is stuffed with polyfil and loads of our organis catnip. A sure hit for Christmas Morning!
Still only $1.50
Christmas Catnip Pillows $1.50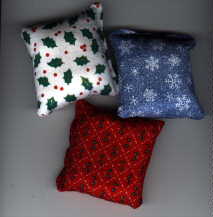 Santa's Mouse on a Stick! What a great Inter=active toy for you AND your cat or for someone who adores their cat and wants the purr-fect toy to play with the kitty. A happy Santa Mouse in a bright Christmas print with a green twine tail just for Christmas! Of course it is loaded with Kitten Kaboodle's Organic Catnip too!
$2.50 ea.